The 2021 Subaru Love Promise Customer Commitment Award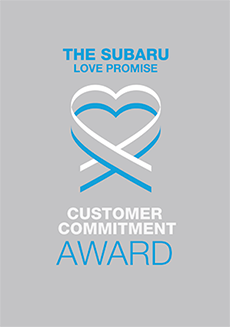 We've been nationally recognized for our dedication to our customers and the Subaru Love Promise.
We're honored to receive the 2021 Subaru Love Promise Customer Commitment Award. This award nationally recognizes Subaru retailers who demonstrate excellence in all areas of customer-focused performance. It highlights exceptional customer service that builds lifelong relationships with Subaru owners.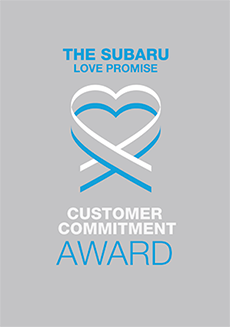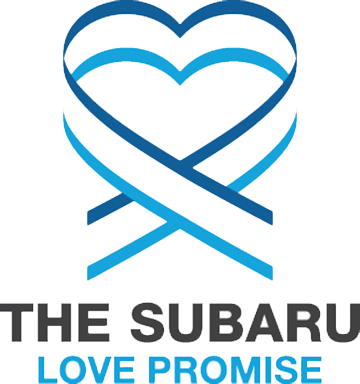 What is the Subaru Love Promise?
Subaru and our retailers believe in making the world a better place and the Subaru Love Promise is our vision of respecting all people. This is our commitment to show love and respect to our customers and to work to make a positive impact in the world.
How is Subaru of Pembroke Pines dedicated locally to the Love Promise?
Our Love Promise can be seen in various partnerships with local charities and non-profits. We're grateful for the opportunity, not only to be a part of our community, but to serve it as well.
Humane Society of Broward County
Love Promise Stories from Subaru of Pembroke Pines
Subaru and Subaru of Pembroke Pines believe in making a positive impact on the communities in which we live and work. We uphold that belief through our Love Promise Community Commitment. Every month, we select inspiring stories from customers and partners from around our area who strive to support our collective commitment and feature them here
Subaru of Pembroke Pines Supports Pet Adoptions - Kathy T
During the month of October Subaru of Pembroke Pines partnered with the Humane Society of Broward County for the national Subaru Loves Pets campaign. Thanks to Subaru of America, Inc. and local dealership Subaru of Pembroke Pines, $100 was donated toward the adoption fee for every dog and cat adopted between October 1, 2020 and October 31, 2020, up to $3,100. Thank you Subaru of Pembroke Pines for being such a wonderful community partner! One pet adopted during October was adorable Nate. His human mom, Kim, sent the Humane Society of Broward County a post-adoption update stating: "Nate is sweet, curious, energetic and a lovable pup. We're becoming good friends. He is also having a good time meeting his new neighbors and exploring his neighborhood." Nate now has the perfect home. Prior to making his way to south Florida's Humane Society of Broward County, Nate was housed with a pet rescue group in Puerto Rico where there are not many opportunities for finding a loving home through adoption. He was given lots of TLC in Puerto Rico by the rescue volunteers, but for him to have the best life and a forever home where he could be spoiled, he - along with several other animals - were flown to the Humane Society of Broward County. Upon arrival each pet was given a wellness check and vaccinations if needed. Every animal is spayed or neutered before leaving our shelter for their new home. Working with Subaru of Pembroke Pines, the Humane Society of Broward County was able to feature a different pet each week on their social media channels throughout the month of October to introduce the community to the wonderful pets in need of homes. We are happy to report that Nate has settled into his new home. Thank you Subaru of Pembroke Pines for your continuing support of our four-legged furry friends!
---
Subaru Shares the Love with JDCH - Babette K
Joe DiMaggio Children's Hospital is grateful for the relationship with Subaru of Pembroke Pines. Both serve the individuals and families in the community, and this is a prime example of collaboration. Funds raised from the Subaru Share the Love campaign are allocated toward the expansion of the children's hospital's four additional floors. This expansion is crucial to meet the growing needs of the community that both Subaru and JDCH serve. Every dollar donated helps us expand, enhancing leading-edge technology to continuously improve quality and safety, and provide support to patients and families. Never has healthcare been more important in daily life. Joe DiMaggio Children's Hospital treats over 360,000 pediatric patients each year in an internationally recognized healthcare system. The Share the Love dollars are an important part of this. Subaru of Pembroke Pines supports JDCH throughout the year. With an understanding of the importance of safety, Subaru of Pembroke Pines and Joe DiMaggio Children's Hospital partner in "Operation KidSafe." This day, hosted at SPP, includes car seat safety checks, the JDCH Mobile Heath Van provides flu shots and vaccinations and other information on services the help protect children and families. Reaching out to make a difference in the lives of patient directly, SPP come to both Joe DiMaggio Children's Hospital and Memorial Healthcare System's oncology departments during their Annual Blanket and Craft Kit Drive. Partnering the Leukemia and Lymphoma Society, Subaru General Manager, Duane Massa, personally comes out to help distribute countless packages filled with craft kits and blankets to each patient in the unit, bringing smiles to patients during an otherwise difficult time of facing cancer. During the holidays, SPP provides dinner on Christmas Eve for the patients, families, and staff in the JDCH Pediatric Intensive Care Unit. This is very much appreciated and looked forward to, as it has become a tradition, "sharing the love" and making a difference. We like to think that as one of the largest public healthcare systems in the country that we take care of the community's health, including the employees of SPP. As one of the largest employers in South Florida, we also believe that many of our employees rely on SPP to keep their families driving safe. The Subaru Share the Love Campaign and the support throughout the year impacts the ability of JDCH to provide quality healthcare and treat patients and families through healing the body, mind, and spirit.
---
Subaru Loves To Care - Chelsea S
On July 10th Subaru of Pembroke Pines and The Leukemia & Lymphoma Society of Southern Florida had the pleasure of delivering 80 blankets to Memorial Cancer Institute and 30 arts & craft kits to Joe DiMaggio Children's Hospital as part of the Subaru Loves To Care program. These comforting gifts were accompanied by personalized messages of hope written by the customers and staff of Subaru of Pembroke Pines. The Leukemia & Lymphoma Society is proud to partner with Subaru of Pembroke Pines for the fourth consecutive year to spread hope, love and warmth to those fighting cancer, across the country and right here in our South Florida communities. Many thanks to everyone at Subaru of Pembroke Pines, Memorial Cancer Institute, and Joe DiMaggio Children's Hospital for not only a memorable day, but for supporting The Leukemia & Lymphoma Society's mission to cure blood cancers and improve the quality of life of patients and their families.
---
Hopeful Blankets Shared Westbound! - Chelsea S
It was a sunny day filled with smiles and hugs at Memorial Hospital West. The smiles came from volunteers sharing the love from Subaru of Pembroke Pines, and the hugs came from soft and beautiful plaid blankets. Volunteers from the Leukemia & Lymphoma Society (LLS) joined Subaru champions at the hospital making huge strides in cancer care. Not one person left without hopeful words from this cheerful visit on a day of delivery which impacted everyone involved. Duane Massa, from Subaru of Pembroke Pines, has led these efforts for many years and stands as a true champion in the world of cancer care and research. It is with gratitude that the hospital and those involved from LLS follow his guidance to truly make a difference. We all benefit from the valiant efforts of this special brand called Subaru which spreads love, hope, and encouragement in everything they do!
---
I Care I Cure Childhood Cancer Foundation - Babette F
Quality and caring service is important in the auto industry. It makes an auto owner, no matter the worth of their car, feel important and respected. It makes them want to come back. Subaru takes this philosophy to a higher level. Their commitment to give back to the community makes a difference and they have shown that childhood cancer is important and deserves attention. As a sponsor of I Care I Cure's Childhood Cancer Foundation, Subaru of Pembroke Pines has demonstrated their commitment to help raise awareness and funds for research for targeted and less toxic cures and treatments for childhood cancer. Cancer is the leading cause of death by disease for children in the US. For children that survive, 74% will suffer some sort of chronic illness or shortened lifespan due to the treatments that were used to fight their cancer. Less than 4% of federal funds allocated for cancer research go towards childhood cancer. Private funding is critical and businesses and philanthropists enable foundations to fund research, giving children the hope of leading healthier and longer lives. ICIC has funded over $1.5 million in research thanks to community support and collaborates with other childhood cancer foundations around the country by matching funds and sharing of resources, strengthening the impact of each gift that is donated. Working together with the community, businesses and other like minded organizations will make the difference in saving lives of children with cancer.
---
Subaru Loves the Earth - E-Waste Event - Danielle S
We would like to thank our customers for participating in our E Waste Recycling event during the month of April. With your help, we were able to prevent 2,090 lbs of carbon emissions from polluting the atmosphere. This is equivalent to saving 81 trees, 356 gallons of gasoline, 3,030 plastic bottles, and 13,936 aluminum cans. Thank you for helping strengthen the Subaru Love Promise!
---
April 1-30, 2015 E-Waste Recycling Event - Molly M
Throughout the month of April, we are hosting an E-Waste Recycling Event in our store to collect unwanted electronics. We've arranged to work with a company who will responsibly collect, re-purpose, and recycle your electronic waste. Help us protect our environment. Just show up with your E-Waste and we'll do the rest! The first 50 customers who contribute will receive a complementary environmental badge of ownership. We will accept: LCD Monitors, Cell Phones, Laptops, Tablets, CRTs up to 40", Video Games/Consoles, Fax Machines, DVD/VCR Players, Printers, Computer Peripherals, Switches/Routers, Cords and Wires.
---
Subaru of Pembroke Pines helps our Heroes - Mark G
Subaru of Pembroke Pines chose "Homes for American Hereos" as it's hometown charity for our annual "Share the Love" event. HFAH assists our Military veterans who are in need of housing and basic staples in life and they are located in Hollywood, FL. Mr. Craig Zinn, Retailer Principal, agreed to match 100% of the money collected during the "Share the Love" event. Our store was able to generate $40,875 and with Mr. Zinn's match, we are proud to present them a total of $81,750!
---