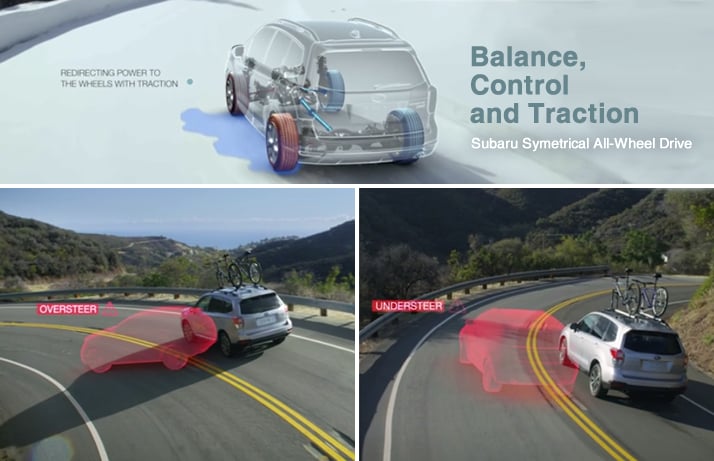 Today's forecast calls for a heavy dose of Subaru Symmetrical All-Wheel Drive meaning that you'll be driving with power flowing continuously into all four wheels to give you you unparalleled confidence in many types of conditions. With Subaru Symmetrical All-Wheel Drive neither rain, nor snow, nor hairpin turn can keep you from owning the road. So whenever you encounter a wet or slick situation the All-Wheel Drive system reacts instantly to help avoid wheel slippage by shifting power from the wheels that are slipping to the wheels that are gripping for maximum traction and control.

The Subaru system is proactive rather than reactive like many of the all-wheel traction systems from other manufacturers and Subaru's Symmetrical All-Wheel Drive provides nearly equal side to side vehicle weight balance to give you the confidence when cornering. Also in certain severe conditions, when pushed hard through corners or a loss of traction occurs, front wheel drive vehicles tend to understeer as the tires try and grab for traction, creating a creepy side-to-side tug in the steering wheel called "torque steer. In rear wheel drive vehicles the tendency is to oversteer as the rear tires lose grip, you experience a dangerous "fishtail" where the rear end starts whipping back and forth. Not with your Subaru!  The symmetrical all-wheel drive system provides power to all four wheels all the time resulting in balanced, confident handling and excellent traction. The Subaru Symmetrical All-Wheel Drive system is the result of decades of testing and development at the core of Subaru's design model which is why unlike other manufacturers; we offer it on all our models rather than as an expensive add-on.


This difference, makes Subaru a leader in all-wheel drive traction for a reason. Take a quick look at some other reasons:
●    Greater control in rain or hydroplane conditions where tires start riding on top of the water.  Subaru AWD can pull power away from hydroplaning tires. 
●    Increased control on perfectly dry pavement, especially during accident avoidance maneuvers.
●    More control during a tire blow out, because the all wheel drive system will pull power away from that wheel, reducing the likelihood of a skid. 
●    Quicker acceleration and greater control while accelerating. When you get on the gas, weight shifts from the front of the car to the back, lifting the front wheels off the ground and starving front drivers of road bite.  Subaru AWD will move some of the torque to the rear, where more traction is available.     
●    Longer lasting tires because they wear more uniformly since all the tires are working to move the car forward.
●    No buttons to push...by the time you hit a patch of ice, it's too late to push a button activating all wheel drive. Subaru's system is full-time.
●    Because Subaru engineers its vehicles knowing that they will have all wheel drive, they can leave out heavy equipment that other manufacturers need to bolt on later. Less weight, better handling, fewer parts, greater reliability.
●    Subaru AWD not only moves power from front axle to rear axle, but can also move power left to right, wheel to wheel. That means you can have traction with only a single wheel and still get movin'! Many competing AWD systems can only move power axle to axle and not side to side.
●    Subaru has over forty years of experience with all wheel drive. Subaru was engineering these systems before we put a man on the moon. Subaru's system is elegant, simple, and battle-tested.

Subaru's Symmetrical All-Wheel Drive offers a level of efficiency, safety, performance, and control that gives you the confidence to explore the world, without a care in the world.

Hours
Monday

09:00am - 09:00pm

Tuesday

09:00am - 09:00pm

Wednesday

09:00am - 09:00pm

Thursday

09:00am - 09:00pm

Friday

09:00am - 09:00pm

Saturday

09:00am - 09:00pm

Sunday

10:00am - 07:00pm