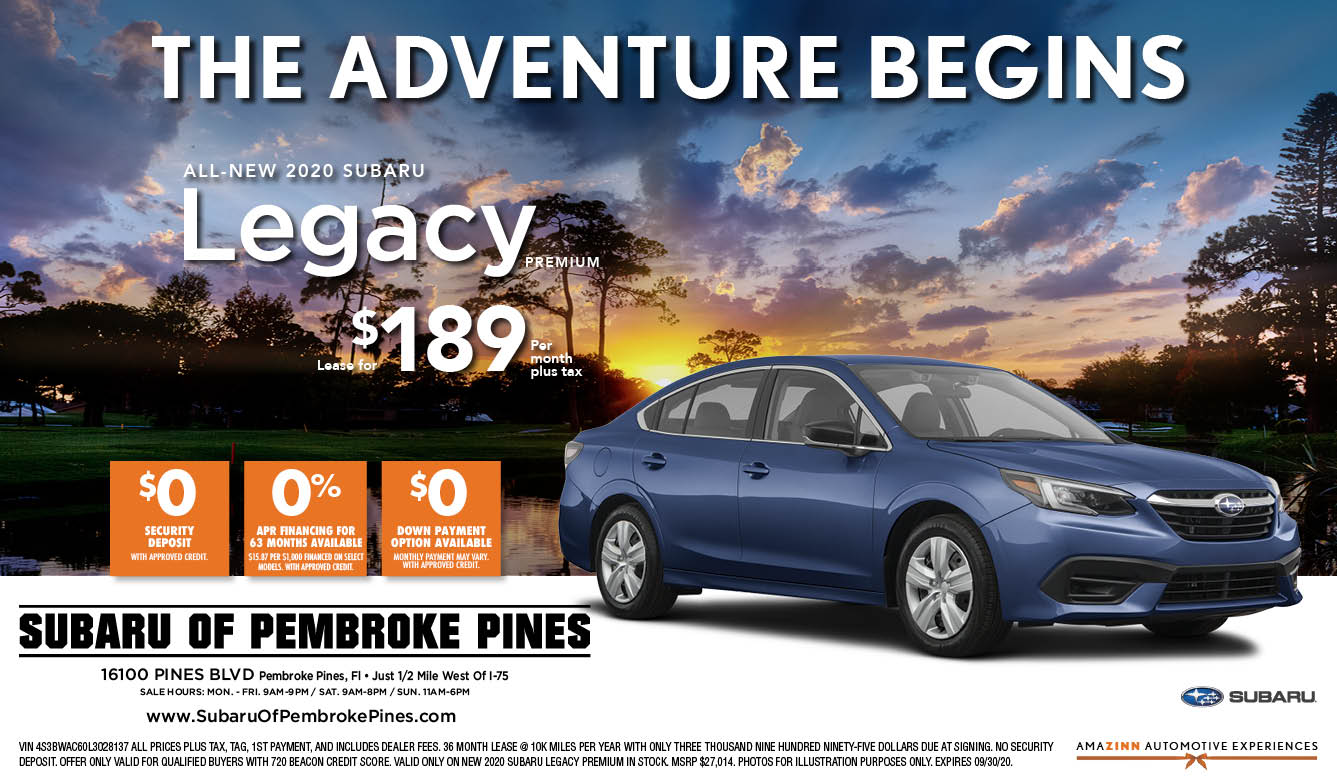 Hours
Monday

09:00am - 09:00pm

Tuesday

09:00am - 09:00pm

Wednesday

09:00am - 09:00pm

Thursday

09:00am - 09:00pm

Friday

09:00am - 09:00pm

Saturday

09:00am - 09:00pm

Sunday

10:00am - 07:00pm
 About the Subaru Outback
Named after the capability of the vehicle to drive in off-road conditions, the Subaru Outback is a great car for those who like to take adventures inside and outside the city. It is actually based on two other Subaru cars, the Legacy and the hatchback Impreza. Side body cladding and additions to the suspension is what characterized the Outback from the Legacy. Only small trimmings were the main difference.
It is a wagon with a four-cylinder drivetrain. Equipped with seventeen-inch alloy wheels, you can bet that the traction it will provide is perfect whatever season you are in. It can seat five comfortably, and the wagon gives the passengers great storage for the gear one usually brings with him to outdoor adventures.
Just like many of its predecessors, it enjoys the symmetrical all-wheel drive as well as the famous Subaru Boxer engine. Powered with a 3.6 L DOHC, it gives great efficiency, a quiet ride, beautiful handling, low emissions, and a light drive. It features the Dual Active Valve Control System which results in powerful torque as well. Its maximum output is at 191 kW at 5,600 revolutions per minute, and maximum torque at 350 N-m at 4,400 revolutions per minute. It is also powered with a Lineartronic transmission system, making the whole thing more compact and smoother ? so much so that when you change gears, it's like you're not shifting at all. Headlights automatically turn on and off ? it lights up at dusk, and now, you do not have to worry about going back to your parked car needing a jumpstart because you left the lights on ? It automatically closes as you take the key out of the ignition. A power sunroof is also available for those who would like to turn off the air conditioning and get some fresh air. Security measures include the concentrated fog lamps that emit minimal glare so that you do not need to make out the road ahead with difficulty. Windshield wipers also automatically come on as rain hits the glass. Speed adjusts accordingly, which is also dependent on the amount of rainfall that hits the glass.
As you back up, a reverse camera system automatically translates the image onto your dashboard display so that you can see and estimate well as you park, making sure not to hit anything or anyone. It can even give you tips to make your parking more efficient so that you can also maneuver more easily. A push-button parking brake also replaces that from the transmission, which takes up less space.
The driver's seat has a 10-way power-adjustable lumbar support. A high-grade multifunctional display lines your instrument panel. The Subaru Outback also has SI-Drive and Cruise Control, dual zone air conditioning with automatic climate control and a digital display, a button to defrost your windshield during difficult weather, and rear cabin vents to make your drive and the passengers' ride as comfortable as any. Technological advancements include an audio system with 4.3-inch color display, auxiliary audio input jack, USB port, iPod dock, and a Bluetooth function so you can talk to your callers hands-free as you drive in leisure.
Make an Inquiry

* Subaru will donate $250 for every new Subaru vehicle sold or leased from November 15, 2018, through January 2, 2019, to four national charities designated by the purchaser or lessee. Pre-approved Hometown Charities may be selected for donation depending on retailer participation. Certain participating retailers will make an additional donation to the Hometown Charities selected. Purchases/lessees must take their charity designations by January 31, 2019. The four national charities will receive a guaranteed minimum donation of $250,000 each. See your local Subaru retailer for details or visit Subaru.com/share. All donations made by Subaru of America, Inc
* Subaru will donate $250 for every new Subaru vehicle sold or leased from November 15, 2018, through January 2, 2019, to four national charities designated by the purchaser or lessee. Pre-approved Hometown Charities may be selected for donation depending on retailer participation. Certain participating retailers will make an additional donation to the Hometown Charities selected. Purchases/lessees must take their charity designations by January 31, 2019. The four national charities will receive a guaranteed minimum donation of $250,000 each. See your local Subaru retailer for details or visit Subaru.com/share. All donations made by Subaru of America, Inc