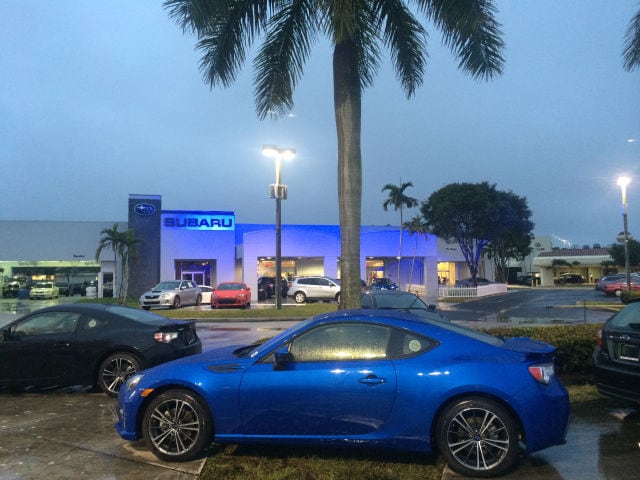 Subaru has become synonymous with the term "all-wheel-drive". No manufacturer has ever managed to integrate an all-wheel-drive into a family car without it feeling like an afterthought or a hack job. Subaru has used its decades of experience in the World Rally Championship to perfect their Symmetrical AWD. For the racing enthusiasts among you, just remember the names of the late, great drivers who were behind the wheel of Subaru at the peak of their careers: Colin McRae and Richard Burns. AWD on other cars is almost symbolic, just so they can put a sticker above the rear bumper and increase the price, but with Subaru, you can feel the difference out on the road. And off-road as well.
Subaru's all-wheel-drive is perfect for those situations where you need more traction. Power from the engine going to all four wheels equals better grip, on all surfaces, including tarmac, gravel and especially snow. But, would you actually need a Subaru Symmetrical AWD if you were living in Florida? Many would be quick to dismiss such an idea, deeming it an overkill. It's would be like trying to sell a fridge to an Eskimo. But, an increasing number of Floridians is going with Subaru as their vehicle of choice. Their decision makes a lot more sense than you might think.
Statistics show that the majority of all weather-related accidents (nearly 75%) takes place when the surface of the road is wet, mostly during or after the rain storms. Guess where there is a lot of those? Yes, Florida! Whether you driving your Subaru in Fort Lauderdale, Miami or any where in "sunshine" state, Subaru is just about an ideal vehicle for it. When the road is slippery, what you need is balance and power distributed to all wheels to get you out of a tough situation. Subaru Symmetrical AWD sends most of the power to the wheels that have the best traction, helping you preserve the stability of the car on wet Florida asphalt.
But, Subaru has one key advantage over its competitors that employ similar systems. Every Subaru is conceived from scratch as an all-wheel-drive car. Other car manufactures design their vehicles as two-wheel-drive cars, and as such they need additional components to be converted to all-wheel-drive cars, which results in a more complicated design, higher maintenance costs and adds weight, which influences steering and fuel economy.
Subaru's Symmetrical AWD systems is streamlined, allowing the drivetrain to be mounted in-line with the engine, ensuring a smooth, seamless distribution of power to all wheels, without the need for additional parts. Coupled with Vehicle Dynamics Control (VDC) systems, which measures steering and braking input in order to keep the vehicle on-track, Anti-Lock Braking (ABS) system and Electronic Brake-force Distribution (EBD), it is guaranteed to keep you safe.
And that's just their Symmetrical AWD system. Subaru is well-known for best extremely robust, reliable, while providing top performance and comfort and the same time. And those characteristics are not going unnoticed in Florida, as more and more drivers decide to put their money and trust in, and themselves behind the wheel of a Subaru.